When is foundation waterproofing required for your home? Homeowners do well to ask this question! One reason is that waterproofing helps prevent costly foundation damage. Two, foundation waterproofing keeps interior spaces clean and dry, while preventing wood rot and mold growth.
On the other hand, no homeowner should pay for unnecessary home maintenance services. This includes waterproofing! To ensure you're keeping your property in good condition, check out some vital information about foundation waterproofing. In turn, you can discuss your property's needs with a foundation contractor near you.
Do You Need to Waterproof Your Foundation?
Foundation waterproofing offers several advantages for your property. One, waterproofing keeps moisture away from foundation concrete or piers and beams, reducing the risk of damage. Two, waterproofing keeps excess moisture out of a structure's interior spaces. In turn, this protects your property from warped floorboards, framing wood rot, mold, mildew, and other such hazards.
Also, note that foundation water damage can lower property values! On the other hand, a property with professional waterproofing might see an increase in value. Basement waterproofing also allows you to finish the space without worrying about damaged materials or damp, musty smells.
In the end, you can forego foundation waterproofing if you choose. Depending on your structure's foundation materials and quality of construction, it might hold up over the years without this service. However, investing in foundation waterproofing can mean avoiding costly repairs and a damp, damaged, unpleasant interior space.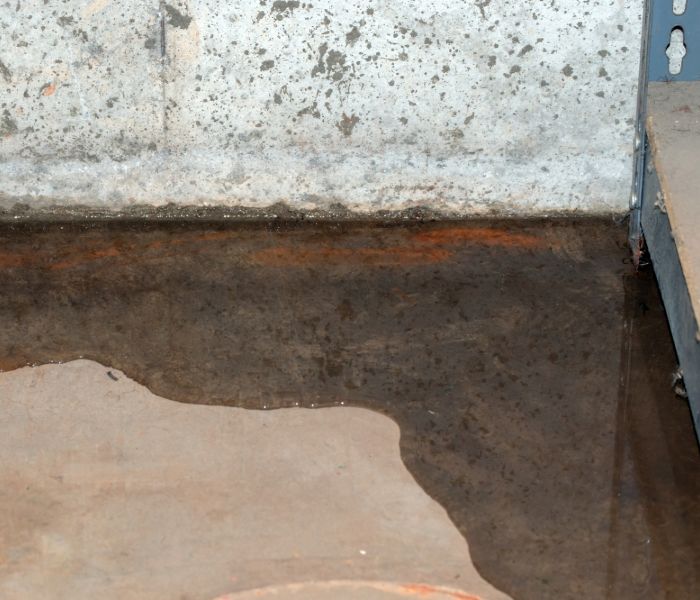 How Do You Know If You Need Basement Waterproofing?
Basement waterproofing is an excellent investment for any property. Remember that basement walls sit underground so they're exposed to moisture in the soil constantly! In turn, waterproofing protects concrete from cracking, flaking, leaks, and other damage. However, you might also note some signs that your home needs basement waterproofing as soon as possible:
Water stains on the walls often indicate foundation leaks and needed patching and waterproofing.
Moisture seeping into the basement often means damp, musty smells. Waterproofing can eliminate that moisture and its resultant odors.
If your home's basement is unfinished, check for damp subflooring overhead. Wood framing absorbs moisture trapped in basements without waterproofing. Consequently, a waterproof coating can protect subfloors from damage.
Trapped moisture risks mold and mildew, as well as damage to items stored in the basement. If you notice mold along walls in the home's upper stories, consider waterproofing. Also, check for rusted appliances and mildewed belongings.
Standing water or puddles in the basement always indicate needed waterproofing and leak repair!
Note, too, that soil conditions outside the home can alert you to needed waterproofing inside! A waterproof coating supplies excellent protection against damp soil, leaking gutters, and other risks to your home's basement concrete.
Foundation Waterproofing from Interior vs. Exterior
Exterior waterproofing is typically best for homes. One reason is that there is more moisture outside your home than on the inside! Also, exterior waterproofing is often more durable and effective than interior solutions.
What happens during exterior basement waterproofing?
During exterior waterproofing, a contractor excavates around the foundation. Next, he or she patches any leaks on the foundation concrete. Then, he or she applies a waterproof membrane to the concrete.
In many cases, the contractor also replaces weeping tiles. These are pipes that run along the foundation perimeters, collecting moisture and directing it away from the home. Consequently, damaged pipes allow for moisture buildup and water damage. In turn, it's vital that a contractor replace or repair them as needed.
Lastly, a contractor might check the grade or slope of soil as it reaches the home's foundation. Improper grading allows moisture to collect around exterior basement walls. Accordingly, correcting this issue can mean less risk of water damage.
What are the pros and cons of interior basement waterproofing?
The upside of interior basement waterproofing is that you can find waterproof coatings at virtually any home improvement store! These apply as easily as paint, making it easier for homeowners to add them without a contractor. Also, tinted waterproof coatings add some color and style to your basement space along with protection against water damage.
However, these coatings are not as effective as membranes applied by a contractor. Also, applying interior waterproof coatings doesn't allow you to patch exterior leaks or replace damaged weeping tiles.
Above all, it's vital that property owners determine the cause of foundation damage and basement leaks when necessary. Adding interior coatings won't stop large, severe leaks from coming through the concrete and risking damage to your basement. With this in mind, consider contacting a foundation repair expert for severe leaks and water damage.
Do I Need to Waterproof My Home?
Along with foundations, it's vital that you waterproof other areas of your home! Proper waterproofing prevents mold, mildew, rot, and other costly damage. Check out some areas needing waterproofing and how to keep your house free of water damage:
Obviously, bathrooms need waterproofing as they come into contact with water and steam every day. Consequently, never replace bathroom materials with anything other than those rated for the space. This includes wallboard designed to resist moisture, and tile meant for bathroom floors.
Additionally, consider regular grout sealing around the bathroom. Sealing keeps grout strong and helps resist moisture and water damage. Waterproof paints also prevent wall materials from absorbing moisture.
As with bathrooms, kitchen surfaces get exposed to steam and excess moisture every day. In turn, it's vital that you protect walls and counters from water damage. Invest in a high-quality backsplash and waterproof your kitchen's countertops as needed, especially wood and laminate materials.
Any concrete floor or wall in your home needs regular waterproofing! This includes laundry or utility rooms, sunrooms, mudrooms, and other such spaces. As with basements, waterproof coatings applied by a homeowner can offer excellent protection against water damage.
Note, too, that a foundation repair contractor can help determine where to apply waterproof coatings around your property. Their advice can ensure that your home or commercial structure stays strong and in good condition for years to come!
Toledo Foundation Repair Specialists is happy to help answer the question, when is foundation waterproofing required for your home? Hopefully this information has given you the tools needed to keep your home protected. For needed foundation fixes, call our Toledo foundation repair contractors. We offer FREE inspections and expert repairs that last!